MORT & Co CROWNED STATE'S BEST REGIONAL EXPORTER

Words by
Mort & Co. Team
Posted
23 October 2023
Category
News
Toowoomba's Mort & Co has taken the title of the Queensland's Best Regional Exporter, at the Premier of Queensland's Export Awards overnight.
The Darling Downs business stood alongside 43 of the of the state's leading exporters to be named finalists in 2023, across 15 categories. Mort & Co CEO, Stephen O'Brien, says the achievement is an immense honour and a testament to the quality of exporting businesses emerging from regional areas.
"There are more than 7,000 Queensland companies exporting their product to the world and 40% of those are from regional areas across our state...
...With so many great businesses in our regions, tonight's achievement is a phenomenal success for our team and for our region."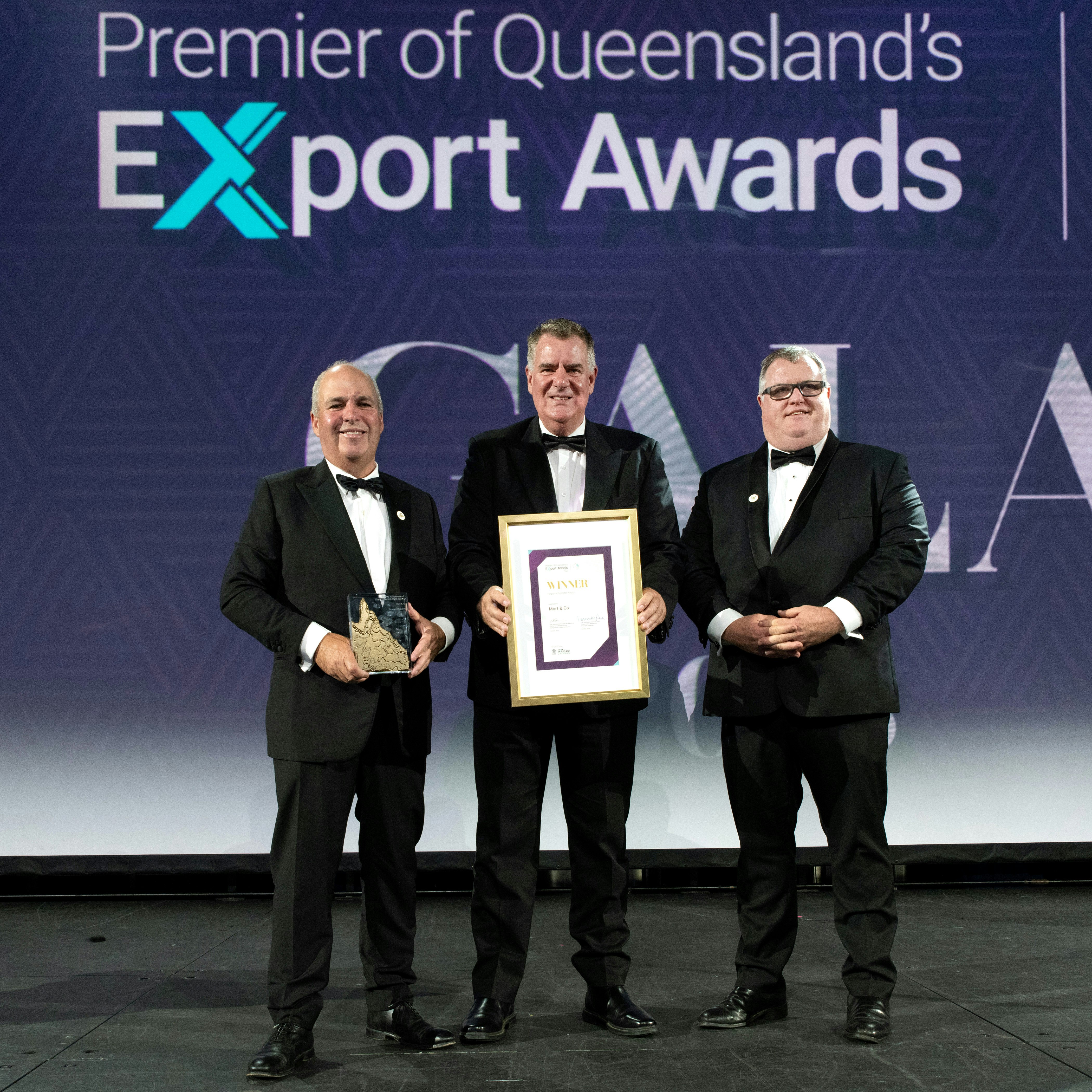 Mort & Co's Charlie Mort and Stephen O'Brien with Hon. Mark Furner (center)
Mr O'Brien congratulated the businesses who joined Mort & Co at the prestigious awards ceremony and thanked the State Government for its acknowledgement of their hard work and continuing innovation. "These awards are a mechanism for benchmarking our business against an array of exporting peers and in only a few short years, we've seen the program grow from 36 finalists to 43. For Mort & Co, operating internationally has meant a new level of innovation and its astounding to see so many fellow exporters raising the bar in this space. With the calibre of nominees growing, Mort & Co faces an exceptionally challenging level of competition, making these achievements all the more significant for our business." Mort & Co Executive Chairman, Charlie Mort, says the award is a reflection of the hard work and dedication applied by everyone in the company.
"This award is not only ours. It is an award that should be celebrated by our communities – particularly the Darling Downs and Western Downs regions and our network of producer partners who are based all over Australia...
Charlie Mort
Executive Chairman and Founder
Tonight's achievement not only reflects positively on Mort & Co, but also our complementary services, valued supply partners and globally positioned customers, right down to our local communities and economies." Queensland's successful businesses will now compete as finalists at a national level, taking on the Australian Export Awards to be held later in the year.